COVENANT OF SHADOWS - a future mortal instruments rpg with book & original canons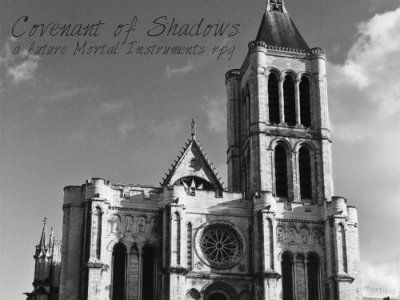 INDEX – SPECIES – CANONS – LAW – APPLICATION
It has been 25 years since the war with Valentine Morgenstern and his demons that left the Clave and Council forever changed and still there is unrest in the shadow world. The Downworlder community still feels slighted, even with their representatives on the Council and many Nephilim continue to be wary of the closeness between Shadowhunters and Downworlders. The Accords, which were signed just 15 years ago need to be signed again, but problems have arisen as they always seem to, to hinder progress.
December 15th was just like any other day at the London Institute. The weather was bitter and grey, snow just beginning to dust the institute's well groomed lawns. Instead of braving the cold, the residents could be found anywhere inside that offered a cozy fire, a warm cup of tea, or even the rare quiet corner to curl up in. Talk had already begun of what sort of party they would have for the Christmas holiday — possibly a masquerade or maybe just a warm gathering. Anything to remind them of the joy of being together with what family they had.
That is, until in the middle of the night, an unexplained fire started in New York City.
The New York Institute was destroyed, seemingly for no reason and parents of children murdered. The Shadowhunters residing there were given refuge in London at the institute there, welcomed with open arms by their brothers and sisters. And they were welcomed more so because the London Institute Shadowhunters were dealing with a problem that was too big for even their numbers.
A rogue warlock has been raising demons, trying to turn the rest of Downworld against the Shadowhunters, though no one really knows why. Lilith could be back, playing her games and raising hell but no one is sure. Rumors abound as to the reasons; some say he hates the Shadowhunters for killing Valentine, others say he simply wants to rule all of the Downworlders without the worry of Clave or Council intervention. No one knows for certain what his motives are, but unrest in Downworld is clear and even some Clave members seem uneasy about the shifting power.
Who will choose Alaric Roserot's side and who will remain faithful to The Clave and to The Council?
NEPHILIM – ANGELS – DEMONS – VAMPIRES – WARLOCKS – FEY – WEREWOLVES – HUMANS